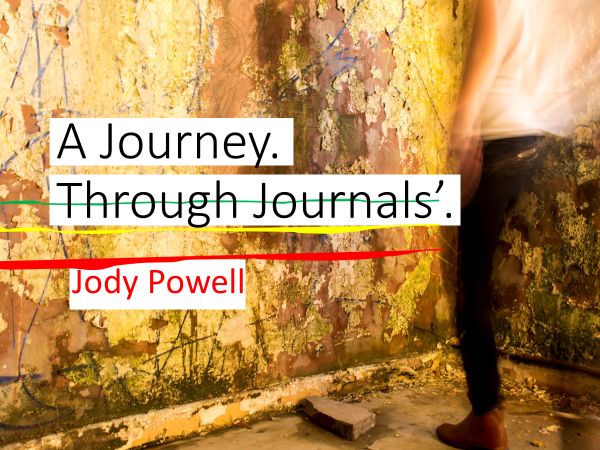 I studied the MA  in Documentary Photography at the University of South Wales.
This a project about helping people with mental health illness.
I have lived with mental illness for many years and I am conducting a project where others and myself can learn to cope  and live with a mental illness.
Through reflection and practice can I learn skills through the medium of journal making – written and photographic to maintain mental wellness?
Through my practice and research I will develop strategies to help others develop their own coping strategies.
By using myself as a study I will be open enough to enlighten and share
with others.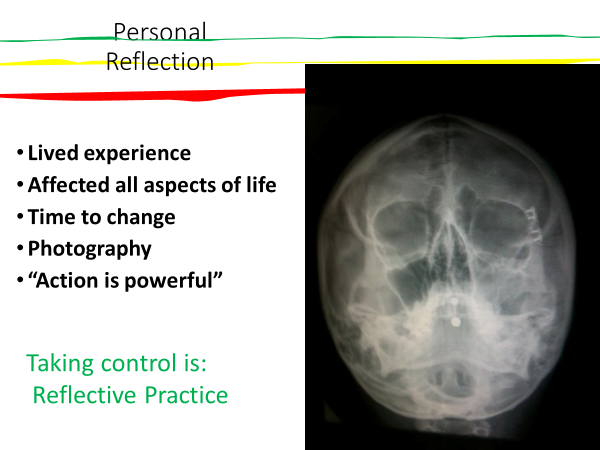 I have been living with mental illness for 18 years. I have a diagnosis  of Bipolar II disorder and border line personality disorder. My illness is part chemical imbalance, genetic and trauma.
For the majority of this time I have coped using  negative coping strategies, such as self harm, negative thinking and addiction.
This an x-ray of my head minus the brain.
This has affected all aspects of my life. Relationships, physical and mental wellbeing, education and occupation.
I've spent the last year in cognitive behavioral therapy learning to change the way my mind works. Becoming settled on various medications. Learnt positive coping strategies the most life changing being photography.
Photography found me. I joined a one evening a week photography a level to get used to social situations. I got 100% mark due to my photographic journals, research and practice methods. My lecturer recommended the masters degree. I've also taken all opportunities of photography work that have come my way.
Taking control is reflection and practice!!! It is constant learning process, putting it into practice and re-evaluating the situation. I want to simplify what I am learning to share with others. This can be done through journals.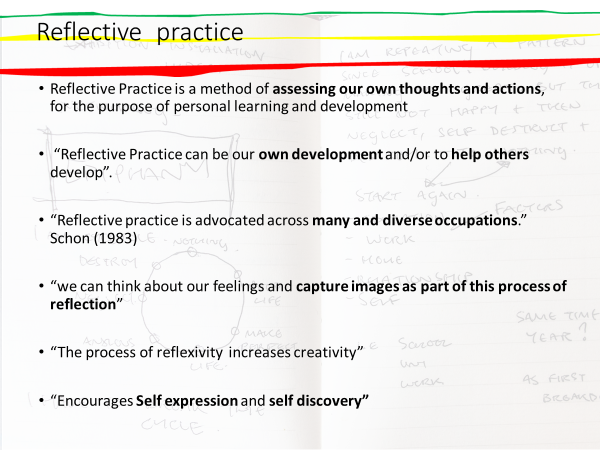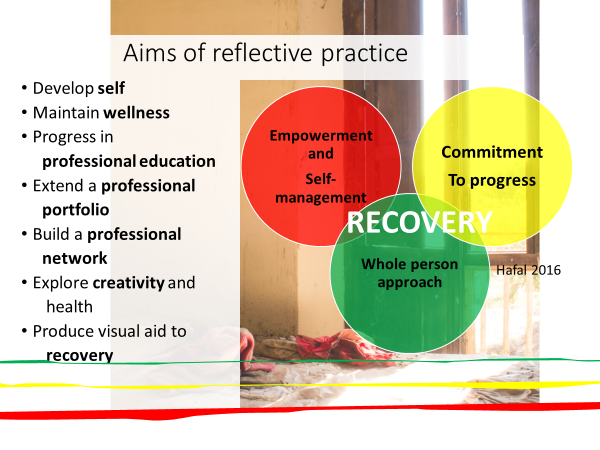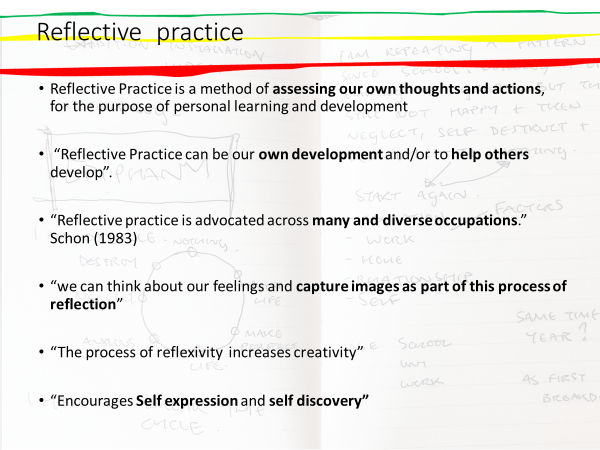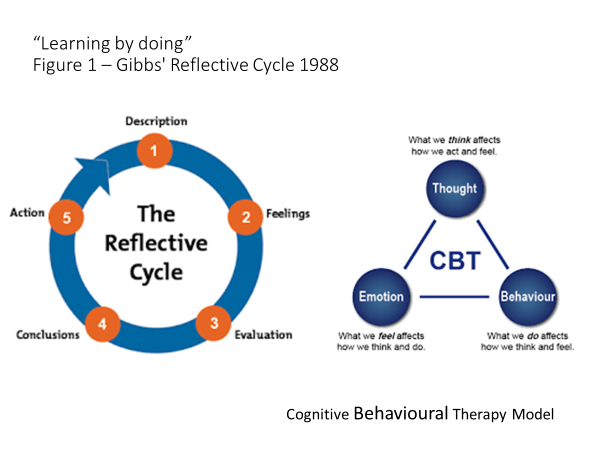 Professor Graham Gibbs published his Reflective Cycle in his 1988 book "Learning by Doing." It's particularly useful for helping people learn from situations that they experience regularly, especially when these don't go well.
There are many diagrams from Schon, cbt, mental health, photography that all follow the same principles. I have chosen a simple one as an example.
Photography example of thoughts shoot:
Action plan: I am going to take self portraits at a derelict site using slow shutter speed, writing thoughts
Description: I took photos but didn't take right props. Better with spray paint.
Feelings: Felt expressive but disapointed I didn't think it through
Evaluation: The experience was good. But things were missing
Analysis: I worked with what I had with me and did my best
Conclusions: Plan ahead, research more to methods, learn from mistakes.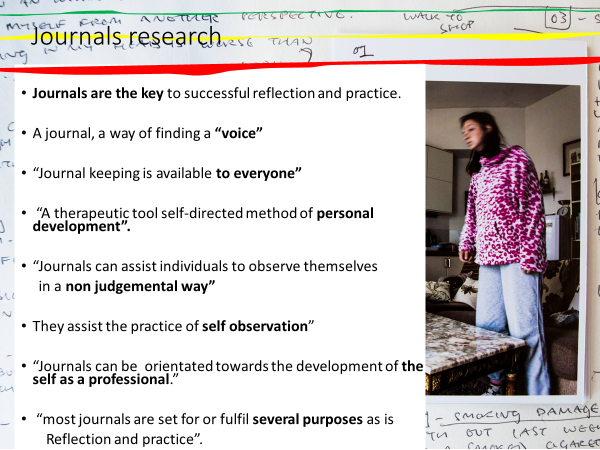 I always have to write something everyday. A day when I write nothing is a desert. (Fowles 1998:6)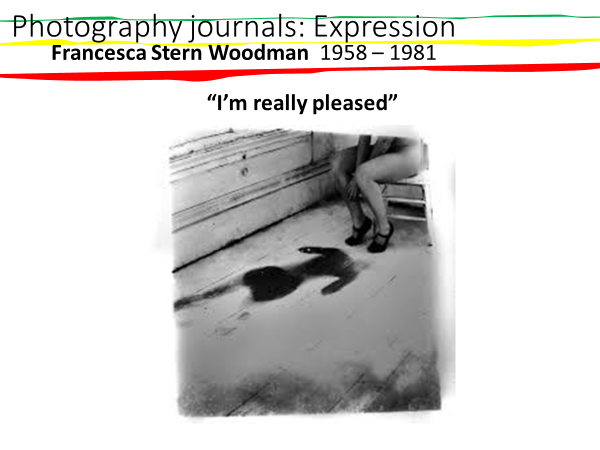 Francesca Woodman was born in 1958 and  sadly died in1981 at 22 of suicide due to mental illness.
As a positive I have connected to her work and she encouraged me express myself without fear.
The first image was videoed and in it Francesca is heard excitedly saying "I'm really pleased". Her photography can be seen as dark and ghostly. The fact is she is happy when creating and that is exactly how I feel. When I'm well and happy I make images.
The most alarming times to her friends and family were when Francesca said "I'm not taking photos" This is a familiar sign of unwellness – not creating.
Photography gave her creative release and self expression.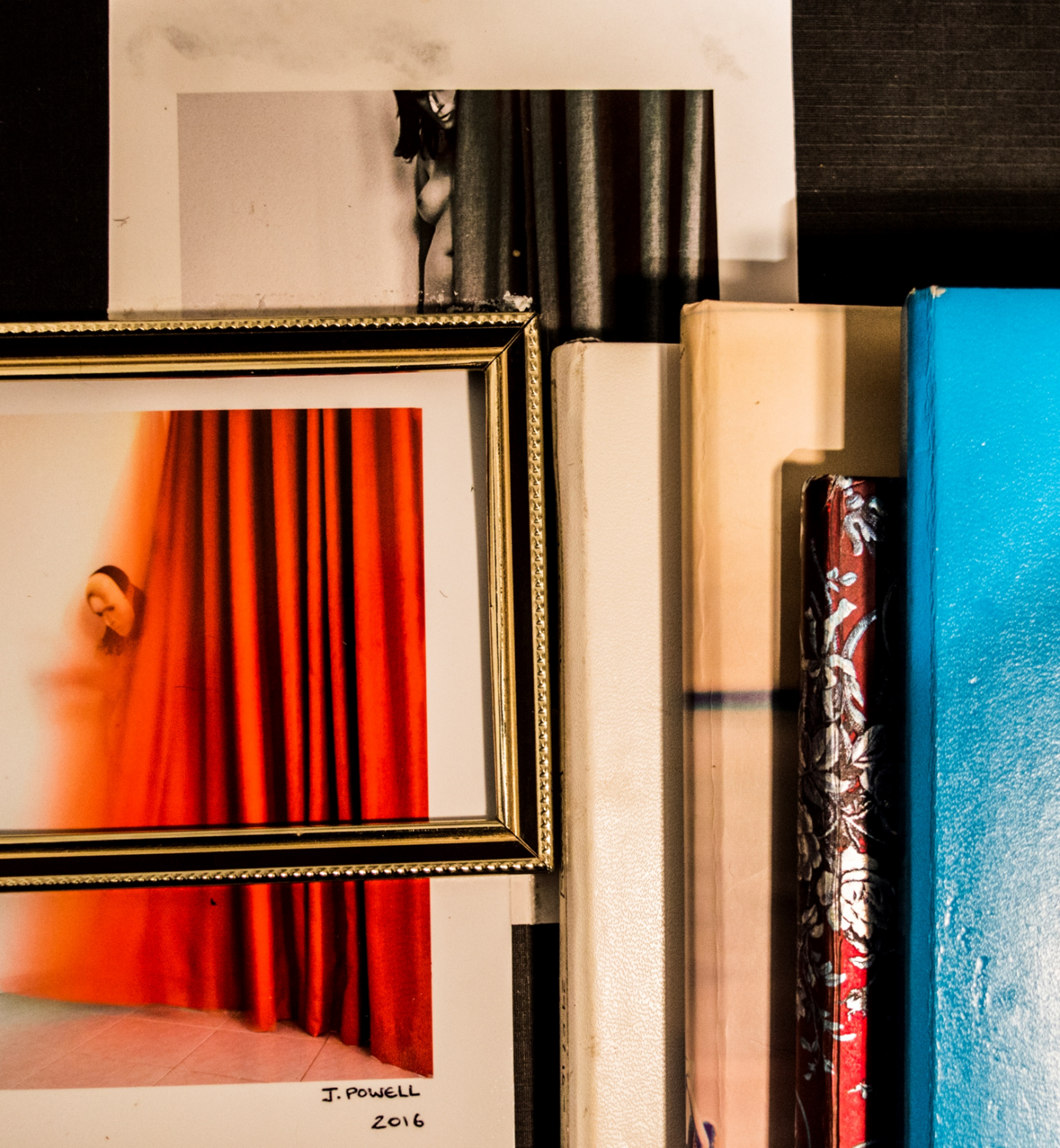 These are my current journals
My journalling is seperated in to two aspects. Photographic and written.
Therapeutic/ expressive photography: This is where consciously or subconsciously I act out and create a photograph depicting issues I have had or have. This is a process that opens my mind and the only way I can express my emotion without using a negative coping strategy such as drinking. Therefore it is a valuable skill to me.
Mindful Photography: Once a week I plan to go out wherever I am and be completely mindful with my camera. Living in the moment, seeing the details of life and letting go of my worries. The process of taking the photos, walking and experimenting is the key. At the moment I am themeing the walks based on colours of the mood scale, charts and positive change: literal and abstract.
Moodscale: monitor my mood and create images that depict the different states
My personal journal is to write down any thoughts usually negative and challenge them with a wise mind. Make lists. Work through CBT techniques so I can get through the day. Drawing. Writing affirmations to remind myself I can be positive and productive.
Educational: notes, research, drawing and ideas on photography and how I progress as an image maker. Gives me order.
Occupational journal: All professional jobs and ideas and dates. If useful I will create a visual sketchbook in order to explain a project to a client which is always very beneficial.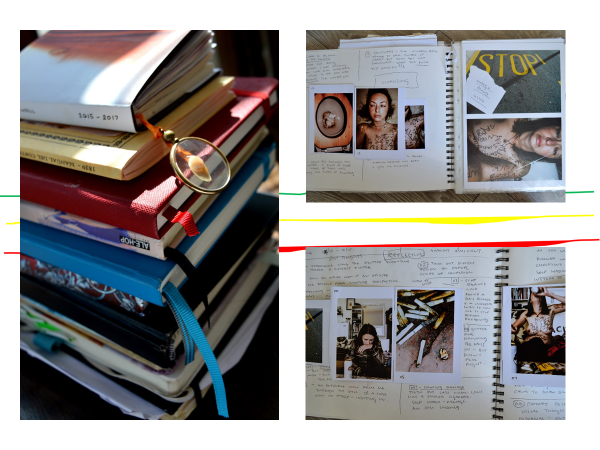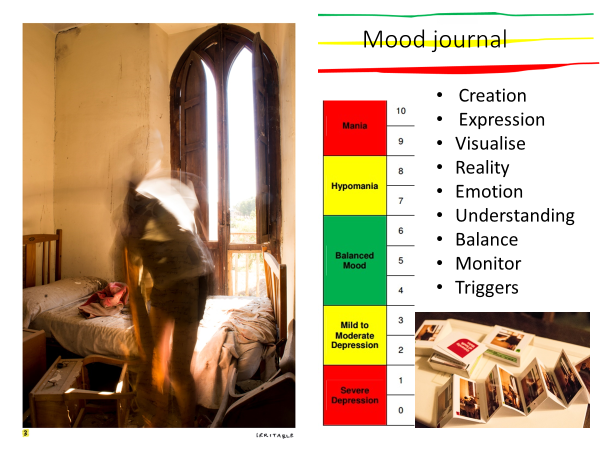 "the new experimental research… is similar to some contemporary art… in which the artist's life becomes the work of art." Ch 11 p 150 (McLeod 2001,p.154)
The mood journal is another form of the other journals. I monitor and learn from the results.
Aim to: Visualise text into an emotion – visualise the mood.
Relate to others feelings. Plan is to create a series of phots depicting various moods and produce an interactive guide.
Bring reality and life to a state of mind
Use as a monitor to record balance
To discover triggers to an episode: to understand the trigger and how to overcome this.
The photo itself is from unplanned photo shoot in an abandoned villa in Ontinyent Spain,
Took my mask which I always use, camera, tripod and remote and my partner.
Spontaneous, expressive act later visualised as a mood journal.
This photo is number 3 on the chart capturing unease, irritability and frustration. Looking at it makes me feel that way.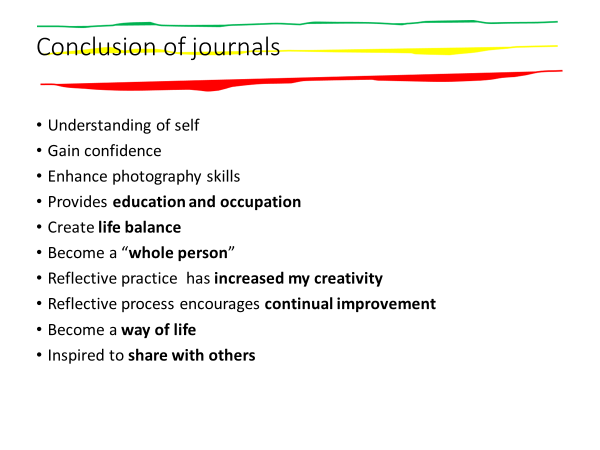 Through reflection and practice in self and maintaining wellness I understand myself more and my mental illness. The expressive photography exposes and challenges my issues giving me closure and understanding.
Through each learning and achievement I gain confidence in self, education, work and socially
Action is powerful each time I challenge and confront a new situation I expand my comfort zones and grow as a person
My photography improves as I practice by seeking and learning new skills to create the images I want to achieve
I have achieved getting into education, provided myself with an occupation with new opportunities presenting themselves all the time
I have learnt how to balance my self, my periods of unwellness, education and work. Reevaluating each time I encounter a problem in each or have an achievement.
Keeping journals is now a way of life. It is essential to my recovery and staying well and dealing with all apsects of my life. I could nnot see myself without this life changing tool.
I have met many peers and professionals in my recovery from mental illness and addiction. I believe through the process and finalisation of my journey I will be able to share with peers and professionals with insight and motivate others recovery.
"by providing active techniques that enable an individual to draw upon his inherent resources to become a whole person (j.daniels and c.feltham, reflective writing in counsellor training, writing cures, an introductory handbook of writing in counselling and therapy,Gillie Bolton